The documentary film Boomtown Beijing, directed by Tan Siok Siok, will screen at the 21st Singapore International Film Festival on April 9th and at Singapore's Sinema Old School on April 15th.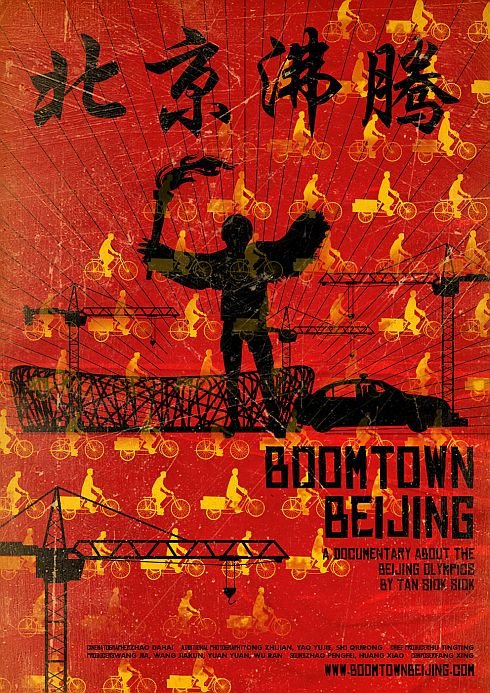 Tan Siok Siok, also known as Siok Siok Tan, is an international documentary film maker, Singapore born, whose films focus on the greater China region. With an elite team drawn from the Beijing Film Academy, she has produced what promises to be a marvellous cinematic insight into the "Olympic fever", of which I saw plenty of signs in Beijing late last year. With the Games only a few months away now, that fever has no doubt increased in pitch and intensity.
I have the honour of counting Tan Siok Siok as a colleague, through our shared association with Culture Fish Media and the Creative Skills Training Council.
By the way, the Beijing Film Academy has a fascinating history in its own right, having produced such legendary film directors as Chen Kaige and Zhang Yimou, who revolutionized Chinese cinema with Red Sorghum, Farewell My Concubine, Yellow Earth, Raise the Red Lantern, and other international successes.
Boomtown Beijing tells the story of how three quite different residents of Beijing are working to achieve their personal dreams.
This film chronicles the attempts of three Beijing residents to make their personal Olympic dream come true. A 11 year old boy wants to beat the odds to become an Olympics torch-bearer. A road sweeper dreams of staging his own mass Olympics countdown performance. An aging blind athlete makes one last stab at a Paralympics medal before he retires from sports. Together, their stories give a snapshot of the city of Beijing the summer before the big games come to town.
For those of us interested in film culture and/or the evolution of the Beijing Olympics phenomenon and/or conemporary China generally, the Boomtown Beijing website, using the WordPress.com platform, will be worth watching. Tan Siok Siok has a neat vision for it – well beyond the standard "website as electronic brochure" approach used for films generally. Her approach is more embracing of the larger cultural context:
Beyond the obligatory film information, it will also create a context for understanding the themes of the film, the Beijing Olympics phenomenon (believe me, it is a phenomenon) and the complexity of contemporary China.
And I didn't find the word "semiotics" used once on the website, thankfully.

RSS/Syndication link for entries on the site. I understand there will be a trailer of the film available soon.
The following two tabs change content below.
Latest posts by Des Walsh (see all)