We know broadband is a joke in Australia. Promising to deal with that was, putatively, one of the reasons for the massive vote for Kevin Rudd's party to take government.
But even with what is currently available, you would think that a major international hotel group would be keen to offer companies using its facilities the best possible wireless for corporate presentations. Wouldn't you?
Not so, it seems, at least for the Westin group, if Simon Chen's Wireless Woes post, about a corporate presentation last week at the Westin Sydney, is anything to go by.
There we all were. All 300+ of us at the opening session of the Omniture Summit. Matt Belkin, the Head Of Omniture Consulting was struggling through his presentation waiting for the wireless in the ballroom to catch up to his requests.
I'm pretty sure they – Westin hotels – either don't get what's happening, in terms of people's expectations, or don't care. As I confirmed this morning with a couple of phone calls, Westin Sydney and the famed Westin St Francis in San Francisco's Union Square charge extra for Internet access in rooms – even though the San Francisco establishment lists that under "standard amenities". Standard? Extra? Oh, I get it, standard like a mini-bar, not like a "heavenly" bed, right? Could I have a good old terrestrial bed, with Internet access thrown in, please? No? I thought not, just askin'.
What I'm also thinking is that Westin is not only not part of the online conversation, they are not even listening. Otherwise there would be, at the very least, a comment by now on Simon's blog, putting their point of view, whatever that is.
What makes this even more interesting for me, in terms of corporate use of social media, is that a couple of years ago the Starwood Group, which includes the Westin brand, launched a blog, theLobby.com. Admittedly that was targeted to their "Starwood Preferred Guests", but it's not as if they haven't heard of blogs.
Just that they aren't reading them, it seems.
For all their opulence, the Westins of this world are such a contrast to the neat hotel we stayed in last November in New York, the Pod Hotel at 230 East 51st St in New York, which as well as being very comfortable, conveniently located and with very helpful staff, provides wireless everywhere at no extra charge (the accommodation price being in itself a gift compared to other New York offerings). They get it.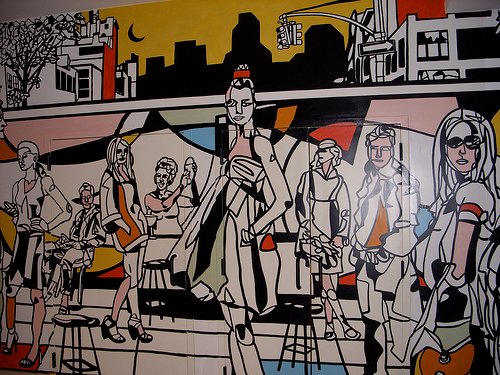 Mural in lobby of The Pod Hotel, E. 51st St, New York: photo by Suzie Cheel
The following two tabs change content below.
Business coach and digital entrepreneur
. With coach training from
Coachville.com
and its Graduate School of Coaching, and a founding member of the
International Association of Coaching
, Des has been coaching business owners and entrepreneurs for the past 20 years. Over the same period he has also been actively engaged in promoting the business opportunities of the digital economy. He is a certified Neurolinguistic Programming (NLP) coach, and a certified specialist in social media strategy and affiliate marketing.
Latest posts by Des Walsh (see all)