Tomorrow I'm attending my first BarCamp ever, at Griffith University on the Gold Coast, Queensland, Australia. And this will actually be the first BarCamp Gold Coast to be held to date.
The Griffith campus at Southport is only about 40 minutes drive from where I live, so it is very accessible. And as it is on a Saturday I will feel less guilty about all the things I'm supposed to have done by now this week and don't look remotely like finishing!
According to the media release, BarCamp originated in California in 2005 and "provides a series of informal and informative workshops and discussions around open source, web based applications and social networks".
BarCamp events are "unconferences" and a motto of BarCamp is "no spectators, only participants". In other words, if you attend, you are expected to share your ideas, your knowledge on the day and/or to share what you have learnt, once you leave.
As "Unorganiser" Steve Dalton says "Anyone is welcome to attend to share their views on web technologies and experience lively discussion on the latest trends".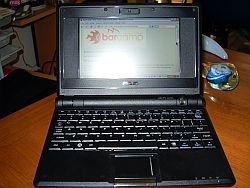 The BarCamp Gold Coast 1 wiki has extensive information and links, including a map link. And you can follow on Twitter at http://www.twitter.com/barcampgc
There is no charge to attend and there is still time to register, which the "unorganisers" would like people to do, especially so that they can assess what is needed in the way of food.
I plan to take my new Asus eee and camera with me and do some event blogging, or at least some tweeting.
The following two tabs change content below.
Business coach and digital entrepreneur
. With coach training from
Coachville.com
and its Graduate School of Coaching, and a founding member of the
International Association of Coaching
, Des has been coaching business owners and entrepreneurs for the past 20 years. Over the same period he has also been actively engaged in promoting the business opportunities of the digital economy. He is a certified Neurolinguistic Programming (NLP) coach, and a certified specialist in social media strategy and affiliate marketing.
Latest posts by Des Walsh (see all)