The weather here on the Gold Coast last Saturday was stormy, but not stormy enough to keep me from attending my first Barcamp, which was also the first Barcamp to be held on the Gold Coast, at Griffith University's leafy campus at Southport.
It was a thoroughly absorbing event for me. I learned new things, met – or re-met – some very interesting people, enjoyed several varieties of pizza and an uncharacteristically late but excellent first coffee of the day from the coffee van man.
"Unorganiser" Steve Dalton has posted about the day at Bar Camp Gold Coast 1 – Mission Complete (Update 2011: link does not work now).
Congratulations to Steve and his fellow unorganisers and to the day's sponsors Linux Australia, inQbator, Apress Books, Griffith University and Dalton Technology (update: also Brisbane-based Custom Tees).
DJ Paine has some great pics at the BarCamp Gold Coast Flickr site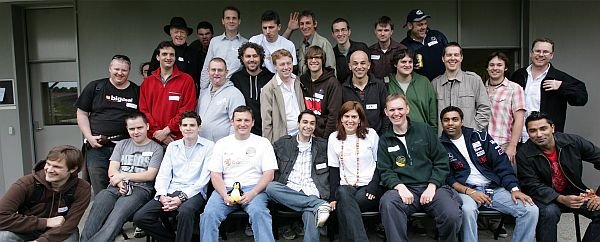 Photo by dj paine posted here under a Creative Commons licence
Bond University's Michael Rees has a succinct writeup of the day's events.
As promised in my post on Friday last, about going to Barcamp, I took my camera and eee PC. Without a full size keyboard, even Twittering was a challenge, so one of those foldable keyboards is on my list of future acquisitions for the travel kit. And while the eee has a card reader I was not able to edit the size of the pictures I took, so I was not able to upload pictures to my blog site as I normally do: there is evidently some software I can download to eee that will enable me to do that – next time!
Matt Hooper has a Barcamp Gold Coast 1 wrap up, which includes some notes on my unscheduled session on Social Media Clubs.
As Matt reports, that session gave me the opportunity to put people in the picture about Social Media Club Brisbane (being launched Friday, 11th July) and to sound out the people present – a mixture of Brisbane and Gold Coast residents – on whether there would be sufficient interest in establishing a separate Social Media Club at the Gold Coast. The upshot was that Michael Rees and I will work on convening a coffee session some time soon to discuss the possibilities, just as a bunch of us had done for Brisbane.
If there is enough interest we could have two Social Media Clubs in South East Queensland before the end of the year. Given that there are no "live" Social Media Clubs outside the USA plus one in Paris, France, that would be a neat achievement for Queensland. Maybe not on a par with providing the first Mandarin-speaking Prime Minister, first woman Governor-General, etc., but an achievement nevertheless.
Anyone interested in knowing more about the new Social Media Club Brisbane or the possibilities for a Gold Coast one, please get in touch with me, either via the Contact form on this site, or by emailing me at deswalsh(at)gmail(dot)com.
The following two tabs change content below.
Business coach and digital entrepreneur
. With coach training from
Coachville.com
and its Graduate School of Coaching, and a founding member of the
International Association of Coaching
, Des has been coaching business owners and entrepreneurs for the past 20 years. Over the same period he has also been actively engaged in promoting the business opportunities of the digital economy. He is a certified Neurolinguistic Programming (NLP) coach, and a certified specialist in social media strategy and affiliate marketing.
Latest posts by Des Walsh (see all)