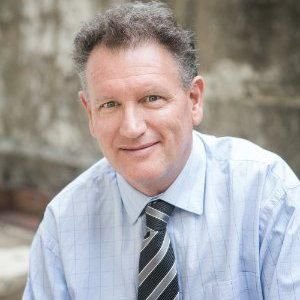 Dr Steve Barlow is a change fitness and change readiness specialist, trainer and change management consultant and has a fascinating career history.
Steve began his career as a teacher of French and English and later ran a high school English department and managed the senior grades. He has managed charter boats on Sydney Harbour, which included running a cruising restaurant and bar and managing cruises. He later served as publicity officer for public schools in the state of New South Wales, Australia.
The Podcast
Podcast: Play in new window | Download
Subscribe: Apple Podcasts | RSS
Or you can subscribe via
Stitcher Radio
or via
email
Maximum Security and Insights About Change
Working with inmates in maximum security in New South Wales correctional facilities gave Steve insights about change that were to feed into his PhD work and later career and business.
Many prison inmates came to programs with no great deal of hope. Some proved able to make good use of change. What made the difference was not the programs themselves so much as what was going onside the individual prisoners' heads.
Change Fitness and Change Readiness
If a change is really difficult it can push us to the limits of our change fitness – just as with physical fitness.
Just because someone has change fitness doesn't necessarily mean they are ready for change.
Applying This to the Organization
Organizations capable of dealing with change have these four characteristics:
the individual members are change fit
the individual members are change ready
the organizational culture supports the change
leadership/management change readiness
Dr Achilles Arminakis identified five factors for what people need to agree and believe to get on board with organizational change. People need to:
agree there's a problem that needs solving
believe that what's being proposed is the right solution and is going to work
believe they can do it
believe that the leaders are committed
see some value in it for themselves, in person or for the team
Attitudes of Leaders
We talked about one area which calls on capabilities for change – mergers and acquisitions.
A tendency of managers to focus on areas they can control – for example legal, contractual, financial issues. Other areas, about people, are more challenging and management is often unaware and/or don't want to know about these aspects. It's difficult to have that conversation with leadership.
Training Coaches
Steve's company, The Change Gym, works with coaches so they can help leaders in industry. They have programs and tools specifically focused on change readiness and change fitness. Most of their work is done online, with people all around the globe,
Other Comments
The change fit person has the capacity to be their own primary agent of change in their own life.
It's a complex world and leaders live with this – leaders need to be more like explorers than experts.
More about Steve and Contact Details
Steve has run anger management and conflict resolution groups for maximum security inmates in the New South Wales correctional system and insights he gained there were to inform his PhD research and later career.
He has authored or co-authored four books on the importance of change readiness for organizational change, one of which is now a text for three Masters degree programs at the University of Tasmania.
Steve's company, The Change Gym, works in the field of organization change and specializes in the psychology of change.
Contact Details
You can find out more about The Change Gym and its services at the website at this link.
Steve's LinkedIn profile. Email address is provided at the end of the podcast.
Subscribe and Never Miss an Episode
You can subscribe to the Let's Talk Leadership podcast show via iTunes, Android, Stitcher, RSS, or via email.
The following two tabs change content below.
Business coach and digital entrepreneur
. With coach training from
Coachville.com
and its Graduate School of Coaching, and a founding member of the
International Association of Coaching
, Des has been coaching business owners and entrepreneurs for the past 20 years. Over the same period he has also been actively engaged in promoting the business opportunities of the digital economy. He is a certified Neurolinguistic Programming (NLP) coach, and a certified specialist in social media strategy and affiliate marketing.
Latest posts by Des Walsh (see all)