Fourteen years ago, early in 2003, I became one of the founding members of the International Association of Coaching (IAC).
Earlier this week I was honoured and delighted to be presented, by IAC President Krishna Kumar, with the IAC President's Award. While I am grateful that the IAC has done this, I am at the same time very conscious of the fact that what I have gained from my association with the organization outweighs any contribution I have made.
A Vision of a New Kind of Certification for Coaches
The IAC was the brainchild of the "coach's coach", Thomas Leonard. Sadly, Thomas had died suddenly just before the IAC launched. Given the shock and distress so many of us experienced at that time, it is a tribute to those who pressed ahead and turned Thomas' dream into reality. As the IAC website records:
One of his final initiatives before his death was creating the IAC® in order to have a certification process that goes far beyond simple academic or vocational qualifications – far beyond an intellectual understanding of coaching – and a process that acknowledges there are many paths to mastery, including other life and career experiences. The IAC® embraces universal guidelines, principles, proficiencies, standards and behaviors that make a coach a masterful coach, regardless of profession, geography, or previous schooling.
That vision, of a different kind of certification process for coaches, recognizing that "there are many paths to mastery, including other life and career experiences", excited me then and excites me today. We would say today it was a seriously disruptive concept for the then still relatively nascent coaching profession. 
The IAC Coaching Masteries®
In 2005, the IAC assembled an international group of volunteers to develop "a model of coaching skills that embodied universal principles of coaching, an awareness of cultural differences, as well as an evolving understanding of coaching". That came to be an intensive two year project of coneptualization, lengthy and iterative discussion, refinement and review, to produce what came to be called the IAC Coaching Masteries®. I was honoured to be invited to be part of that team effort and it proved to be one of the most satisfying projects of my professional life. The framework and specific principles of the Masteries also inform my coaching practice on a continuing basis.
And by no means the least of the benefits to me of having worked as part of the Masteries teams, was that I established professional relationships and friendships – many literally across the oceans of the world – that endure today.
The Board of Governors
I was privileged also to be able to serve for a time on the IAC Board of Governors. Once again, I was in the company of, and working with, a group of exceptional people dedicated to supporting the continuing growth of the IAC and its service to coaches and through them to a wider, global community.
Working with the IAC Today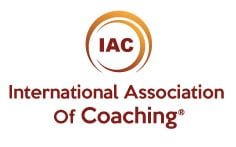 For some time now I have been working with the IAC leadership, most recently in anchoring a webinar on artificial intelligence (AI) and its significance for the coaching profession.
One of the many pieces of advice Thomas gave out was, as I recall it, that if you want to be a coach you should "hang out with coaches". One of the somewhat selfish reasons I look forward to supporting the work and growth of IAC is that it gives me frequent opportunities to hang out with coaches. And not just any coaches but ones who share the kind of thinking and view of human possibility that informs the IAC's mission and the IAC Coaching Masteries®.
A Fresh Career, Building on Experience
When I had the privilege, in 2002, of seeing and hearing Thomas Leonard in action over a whole weekend, explaining and demonstrating the kind of coaching embedded in the IAC Masteries, I saw that learning and practising this style of coaching could give me a new career of which I would never tire and in which I could continue to grow, while helping others. I've not been disappointed.
So now when I meet people who have been successful in their careers and are at something of a crossroads, looking to do something different, where they will be able to use the knowledge and skill they have acquired, if I sense that they could make good coaches and are likely to find that fulfilling, I always recommend they check out the IAC Certification process.
The following two tabs change content below.
Latest posts by Des Walsh (see all)