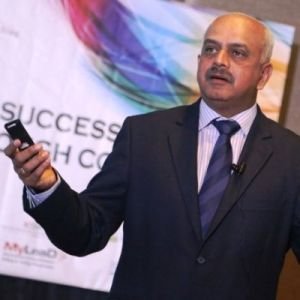 Krishna Kumar is a pioneer in the field of Leadership & Executive Coaching in Asia. A Master Coach and Trainer, he has coached Executives, Entrepreneurs and CEOs and works closely with some of the most renowned organisations in India and abroad. In a career spanning 30 years, Krishna Kumar has donned several hats as a a corporate executive, entrepreneur, independent director, management consultant, B-school faculty and Tennis coach.
He is the founder-director of (ISEC) Intrad School of Executive Coaching, which runs programs for certifying individuals as coaches.
Podcast: Play in new window | Download
Subscribe: Apple Podcasts | RSS
Or you can subscribe via
Stitcher Radio
or via
email
Awareness, Tennis and Leadership
The opening (and, as it turned out, recurring) topic for our conversation was "Being Aware – the Secret to Powerful Leadership".
Krishna quoted the legendary tennis champion Billie-Jean King (39 Grand Slam titles, including 12 singles, 16 women's double and 11 mixed doubles) as saying that self awareness is the secret of being a champion.
Connection between tennis and the corporate world. The sports field is like a laboratory, with lessons that can be learnt on the tennis court and transported into the corporate world.
He has long been inspired by the insights and work of Timothy Gallwey, especially in his modern classic The Inner Game of Work.
Many leaders come to their position without experience of serious failure. Even the greatest sports champions experience failure: they learn how to cope with wins and losses, as long as they have more wins than losses. In the corporate world many work not-to-fail rather than to succeed.
Importance of having awareness of the environment in which the business operates.
Scaling Up and Major Change
Challenges for young developers who become CEOs of fast-growing startups. Investors want rapid growth. Krishna's advice – you as leader are always going to be the visionary and you need to be ok about handing over management to others.
CEO challenge with major change is to create and share a strong story of a bright future – a strategic story of success.
Four areas of awareness for a CEO initiating a change process
self awareness
awareness of others (company wide)
systems (and broader environment) awareness
strategy (left and right brain in sync)
More
We talked also about:
warning signs that a leader needs to do something about self-awareness
what keeps business leaders awake at night
More about Krishna and Contact Details
Active in the coaching community, Krishna is the President of the International Association of Coaching (IAC) and a Member on the IAC's global Board of Governors. A Board Certified Coach (BCC) by the Center For Credentialing and Education (CCE), USA, he is also a Founding Fellow of the Institute of Coaching Professional Association (ICPA), a Harvard Medical School affiliate.
Krishna is a USPTR certified tennis coaching professional and also the recipient of the USPTR India Coach of the Year award in 2011 and the USPTR President's 2002 award for contribution to the field of tennis coaching. His passion for the game of tennis led to the establishment of Kinesis Sports, which is rated as India's premier tennis academy. Kinesis, India's first and only ISO 9001 – 2008 certifed tennis training institution is supported by a top-notch team of coaches who train around 300+ students every year.
Krishna Kumar is a visiting faculty at the prestigious Indian Institute of Management, Bangalore, and his articles are regularly published in leading business magazines.
Contact Krishna
ISEC India website – ISEC India
Email: kk@intradconsult.com
Subscribe and Never Miss an Episode
You can subscribe to the Let's Talk Leadership podcast show via iTunes, Android, Stitcher, RSS, or via email.
The following two tabs change content below.
Business coach and digital entrepreneur
. With coach training from
Coachville.com
and its Graduate School of Coaching, and a founding member of the
International Association of Coaching
, Des has been coaching business owners and entrepreneurs for the past 20 years. Over the same period he has also been actively engaged in promoting the business opportunities of the digital economy. He is a certified Neurolinguistic Programming (NLP) coach, and a certified specialist in social media strategy and affiliate marketing.
Latest posts by Des Walsh (see all)