Bloggers looking for paid work as bloggers have a few places to go online, including Darren Rowse's Problogger Job Board, Jim Turner's Bloggers for Hire, or one of the blogger networks such as b5media.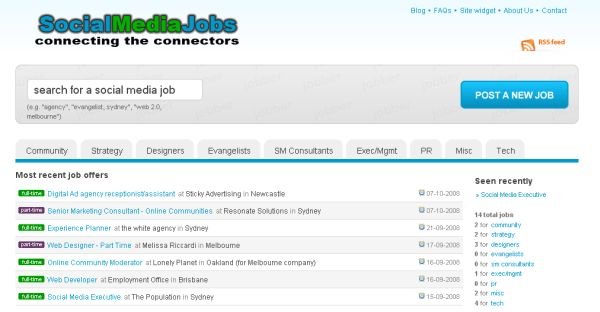 But what if your professional interests and skills belong more under the (broader) category of "social media"? From when I published my Social Media Strategist is a Real Job post a few months ago and up until today I have not been aware of a social media site comparable to the blogging ones I've mentioned at the beginning of this post.
Now Gavin Heaton, whose intriguingly named branding and marketing blog Servant of Chaos displays his mastery of his field and keen awareness of business realities, has moved to fill the gap with his new Social Media Jobs site – sub-titled Connecting the Connectors (I like it).
As Gavin observes + asserts in the site blog:
"Connectors" are those in a community who know a large number of people, or as Malcolm Gladwell suggests, are people "who link us up with the world". These people are essential to the success of any social media effort — and you will find more of them here than on the generic job sites.
And some good news for people feeling the economic crunch, at present there is no charge for employers or job seekers using the site.
The site deserves to be better known and I'm sure it soon will be.
If you know of other sites where people can advertise or find social media jobs, please let us know here (urls are fine but no spam please – links for generic job boards will be put to the sword without a second thought).
The following two tabs change content below.
Latest posts by Des Walsh (see all)