BlogWorld Expo Keynote by Richard Jalichandra
Like some others, over the past year or two I've been less than impressed by Technorati's performance. So I was frankly not overwhelmed with anticipation of the keynote address by Technorati CEO Richard Jalichandra, at last weekend's BlogWorld and New Media Expo in Las Vegas.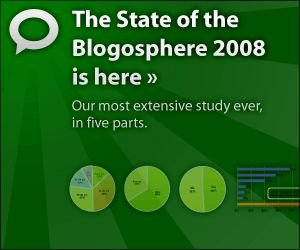 In the event, I was pleasantly surprised. A big factor in that was when Jalichandra announced that he was to be giving us a preview of Technorati's latest State of the Blogosphere report, which was to be released in stages over several days, starting with the Monday immediately following the conference, September 22.
But I listened and watched in vain for something I had come to expect from these reports. How many blogs are there now and how fast is the blogosphere growing?
Thinking that I might have had a lapse of attention (there had been a party the night before, although I had not stayed very late) I looked forward to reading the report online.
But when I finally got around today to reading the serialized sections of the report, I found myself looking in vain again for the latest aggregate number of blogs, worldwide.
They were not to be found.
Technorati's State of the Blogosphere Alerts 2004-07
Aggregate numbers of blogs, with accompanying graphs, a staple of the Technorati alerts for several years now, have demonstrated the cumulative dramatic growth of the blogosphere. As these graphs have been made available by Technorati under a Creative Commons license, I and others have been able to make ready use of them in blog posts and slide presentations, without having to seek special permission from Technorati.
Apart from my general interest in the statistics, I liked having these graphs available to help explain what was happening with the blogosphere – and then being able to segue into what that might mean for business.
A quick recap.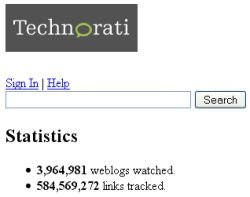 Exactly four years ago, in September 2004, Technorati was tracking  just under 4 million blogs and reporting on various statistical findings about those blogs.
At the end of July 2005, Technorati was tracking 14.2 million blogs and it was noted that the blogosphere was doubling every 5.5 months.
By April 2006, the number of blogs being tracked was 35.3 million, with a mild slowing of the doubling factor to every 6 months.
A year later, April 2007, Technorati was tracking 70 million blogs, so the doubling factor was now around 12 months.
As then CEO of Technorati, Dave Sifry, commented at the time, the "slowing" of the doubling factor should not have caused surprise:
… we're dealing with the law of large numbers – it takes a lot more growth to double from 35 million blogs to 70 million (which took about 320 days) than when it doubled from 5 million to 10 million blogs (which took about 180 days).
A Worm of Doubt Crept In: Just How Good Were the Aggregate Numbers?
As I recounted in a blog post here at the beginning of this year, New Year's Day in fact, my confidence in the comprehensiveness of the Technorati statistics had been shaken a couple of months previously when visiting China for the first time. The figures being supplied to me there indicated that in 2007 there could well have been over 70 million blogs in China alone, about when Technorati was saying that blogs in China made up for only 8% of its total 70 million.
And even if the figures from China were a tad self-serving, a tad rubbery, were we now to understand Technorati's recurring phrase that its figures were for blogs which Technorati was "tracking" to mean that they were implicitly acknowledging (and perhaps explicitly somewhere) that there were a lot of blogs they weren't tracking? In other words, were there a lot more blogs than Technorati was counting?
My assumption is that the answer is yes. But whether or not there is a simpler explanation, it seems Technorati, "under new management", has moved on.
Game Over: With One Leap, Our Fearless Tracker is Free!
From reading the latest report, it looks like from here on the discussion about aggregate numbers will from now on be, at least as far as Technorati is concerned, academic.
And the question of how many blogs there are outside the USA – and, by implication, in English – will be academic too, as far as Technorati is concerned.
Why?
Because the latest report declines to make a declarative statement or estimate on the total number of blogs and simply quotes some statistics, mostly from the USA, indicating that there are A LOT (although note that a worldwide figure from Universal McCann is tucked in, showing 184 million blogs worldwide):
There have been a number of studies aimed at understanding the size of the Blogosphere, yielding widely disparate estimates of both the number of blogs and blog readership. All studies agree, however, that blogs are a global phenomenon that has hit the mainstream.
Having thus absolved itself of any responsibility to provide or adjudicate on total numbers – and wisely in my not totally humble opinion – the Technorati report focuses on providing some analysis of what all the blogging activity means:
For the 2008 State of the Blogosphere Report, we wanted to go beyond the numbers to deliver insights into bloggers and the state of blogging today. Who are the bloggers, why and how do they do what they do, and what is the impact on their lives and work?
To achieve this, Technorati has surveyed a random sample of Technorati users and supplemented the data and analysis with its "traditional analysis" of Technorati's data. Those surveyed provided 1,290 responses from 66 countries. There is a brief explanation of the survey and analysis methodology on the Technorati site.
There are six sections to the report, including the Introduction:
Introduction
Day 1: Who Are the Bloggers?
Day 2: The What And Why Of Blogging
Day 3: The How of Blogging
Day 4: Blogging For Profit
Day 5: Brands Enter The Blogosphere
The short story?
First, the story is now about the Active Blogosphere, defined as "the ecosystem of interconnected communities of bloggers and readers at the convergence of journalism and conversation".
Other conclusions:

Blogging is a global phenomenon
Blogs are here to stay
Blogs are profitable
Brands permeate the blogosphere
All good.
But I'll miss those climbing graphs of aggregate growth. 🙂
The following two tabs change content below.
Business coach and digital entrepreneur
. With coach training from
Coachville.com
and its Graduate School of Coaching, and a founding member of the
International Association of Coaching
, Des has been coaching business owners and entrepreneurs for the past 20 years. Over the same period he has also been actively engaged in promoting the business opportunities of the digital economy. He is a certified Neurolinguistic Programming (NLP) coach, and a certified specialist in social media strategy and affiliate marketing.
Latest posts by Des Walsh (see all)