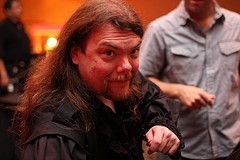 You couldn't miss Ewan Spence at BlogWorld Expo in Las Vegas last week. He was the one wearing the kilt.
And the smile. Cool guy. Pioneering podcaster having launched The Podcast Network with Cameron Reilly before most of us knew what a podcast was.
Unfortunately, because I had a few commitments as one of the track leader team, Ewan and I kept missing one another and did not get around to having the conversation we had hoped to have. Next time.
Ewan has posted his self-described "professional" report on BlogWorld Expo at the BBC News site. Well worth the read, especially on how bloggers are generating income for themselves, especially via affiliate marketing.
His general verdict on blogging as an industry? Positive and optimistic.
Blogging is still a nascent industry but on the strength of the BlogWorld Expo, the pioneers have put down not only a strong groundwork for those that are following them, but have also put in place a rich ecosystem that rewards openness and sharing.
He's also done a personal report on BlogWorld, which captures nicely the buzz of the event and shares some of the party experience, including the "hear yourself speak" variety and also the "been there, done that in my undergrad days when it seemed fun" version: whatever takes your fancy, but the parties look to me like they are now entrenched as part of the BlogWorld experience.
And there's another photo of Ewan with the blog post, but not showing the kilt.
You'll have to go to BlogWorld Expo 2009 to see that.
Credit for photo above: Blogworld Expo 2008 Blogworld Expo Party – Ewan Spence: (CC) Brian Solis www.briansolis.com and bub.blicio.us
The following two tabs change content below.
Business coach and digital entrepreneur
. With coach training from
Coachville.com
and its Graduate School of Coaching, and a founding member of the
International Association of Coaching
, Des has been coaching business owners and entrepreneurs for the past 20 years. Over the same period he has also been actively engaged in promoting the business opportunities of the digital economy. He is a certified Neurolinguistic Programming (NLP) coach, and a certified specialist in social media strategy and affiliate marketing.
Latest posts by Des Walsh (see all)