In this post I am sharing information I've gathered so far on obtaining releases from people being interviewed for podcasts – or videocasts for that matter.
As this is legal stuff, it's appropriate for me to declare here and now:
I am not a lawyer
The information in this post is essentially a set of links and notes from my rapid online research and some offline reading
Nothing in this post should be construed as legal advice – if you have questions about legal issues, please consult an attorney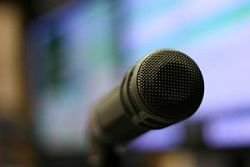 As I may well have remarked in a previous post or two, I came away from BlogWorld Expo in Vegas last October with the intention of getting seriously into podcasting: in this I was inspired especially by Leo Laporte's keynote. It's been on my list of things to do and now that the New Year has well and truly arrived, I feel a bit more sense of urgency. But I still want to proceed systematically and make sure I have a proper plan in place before I launch. And as I want to include interviews in the format, that definitely includes having a suitable arrangement for obtaining any clearances I need from interviewees.
On the Copyright and Fair Use section of the Stanford Libraries site: Interview and Property Releases, I found this interesting comment:
Most reporters and writers do not obtain signed interview releases because they presume that by giving the interview, the subject has consented to the interview and, therefore, there can be no claim for invasion of privacy. In addition, many interview subjects don't have the ability or inclination to execute a written release – for example, a person interviewed by telephone for a deadline newspaper story.
Nevertheless, the document goes on to say, a written release can be useful.
It can help avoid lawsuits for libel, invasion of privacy or even copyright infringement (since the speaker's words may be copyrightable).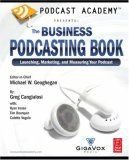 While in the USA I picked up a copy of Podcast Academy: The Business Podcasting Book: Launching, Marketing, and Measuring Your Podcast, by Greg Cangialosi with others, including intellectual property law specialist Colette Vogele, who has contributed a 35 page chapter on Legal Issues. This includes some interesting information and commentary on "Clearing publicity rights" (pp 215 ff). The opening sentence of this section is a succinct statement of what seems to me, from what I have read in various places so far, to be the "best possible practice":
The most effective and legally acceptable way to clear publicity rights is through a written document showing affirmative consent of the individual whose consent is required (and, if consent is from a minor, then proper consent from a guardian).(p 215)
Ms Vogele goes on to say, however, that it can be "terribly inconvenient" to try and hand a release document to someone about to be interviewed by telephone over Skype or other VoIP and says:
In those situations, the parties may exchange an agreement by email or fax, such that the written signature of the party giving consent is unambiguous and the identity of that individual giving consent is confirmed.(p 215)
She mentions two other methods for seeking to establish consent, noting that neither has been legally tested, but that "using both together may form the basis for a best practice in instances where obtaining a printed/written signature is, for whatever reason, not possible". The two methods are:
a WordPress plugin enabled online release form
obtaining the interviewee's consent on the audio or video record
The WordPress plugin is a free tool produced a year ago by Michael Geoghegan of Gigavox Media.
The audio consent is obtained at the beginning of the interview, kept on the original audio file – to be safely archived – but edited out of the published/podcast version.
Note that the WordPress plugin does not include any form of words for the release. The user needs to insert those once the plugin is activated. Lorelle Van Fossen has a post which references the Michael Geoghegan plugin and provides a simple form of words for a Model/Voice. The post also provides an extensive list of links on the subject.
There is also a form of words for a release/authorization form on the New Media Expo site. Tim Bourquin, founder of New Media Expo, is one of The Podcast Brothers (with brother Emile) and is another of the authors for The Business Podcasting Book, contributing a chapter on Making Money With Your Podcast, a chapter I intend to read very thoroughly when I get to it! In the interest of completeness, I should mention that the other co-author of the book is Ryan Irelan – Podcast Free America – who has contributed chapters on Planning, Pre-Production, Production, Publishing and RSS.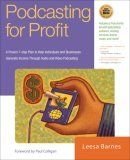 Leesa Barnes, author of Podcasting for Profit, links to the Podcast Brothers' form (previous para) but has produced her own version of a consent agreement.
I reiterate my IANAL disclaimer as above. And I'm open to suggestions and contributions as to how the foregoing may or may not play in jurisdictions other than the USA.
(mic pic by jyhad, via stock.xchng)
The following two tabs change content below.
Business coach and digital entrepreneur
. With coach training from
Coachville.com
and its Graduate School of Coaching, and a founding member of the
International Association of Coaching
, Des has been coaching business owners and entrepreneurs for the past 20 years. Over the same period he has also been actively engaged in promoting the business opportunities of the digital economy. He is a certified Neurolinguistic Programming (NLP) coach, and a certified specialist in social media strategy and affiliate marketing.
Latest posts by Des Walsh (see all)