Before heading to New York the week before last I did a search to find out what social media type events might be on and found the Web 2.0 Meetup group, which describes itself as catering to the Web 2.0, Social Networking and Social Media scene.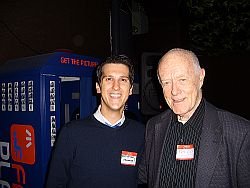 I was very pleased to discover that one of the organisers is Brett Petersel whom I knew via LinkedIn. And on the night I met his co-host, the effervescent and thoroughly charming Oz Sultan.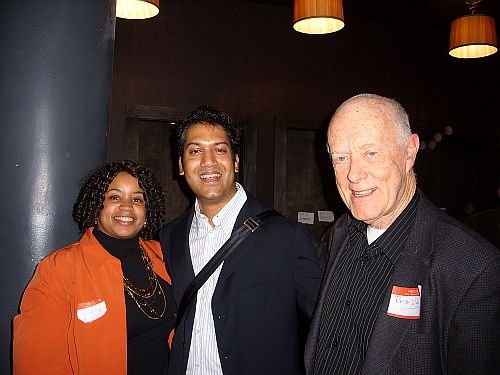 The very cool venue was Slate Plus at 21st St W., where we met up with our friend, entrepreneur and speaker Shirley George Frazier who had made the trip in from New Jersey. We knew Slate Plus was cool because it was so dark! 🙂 But it was quiet when we arrived, so we had a chance to have a drink and a chat before we joined the throng for the meetup.
And it was a throng. Although we were able to snaffle a seat up the front, it was virtually standing room only. Which in itself is a tribute to what Brett and Oz have achieved. In his introduction, Brett said they'd started with five people and there were now 375 members.
After about half an hour of chat, a.k.a. networking, during which I had a very informative chat with Peter, an entrepreneur who gave me some great tips about new Web 2.0 products, there was an introduction to the evening's events and then we settled down for four presentations.
Buddy Media: Director of Business Development Jeff Ragovin gave us a very upbeat presentation on Buddy Media's new AceBucks application on Facebook: quite fascinating and worth a separate post in its own right.
Convos, "a web application that provides group communication and management features", described by the presenter as "a bit like Yahoo Groups on steroids" – free account for up to two groups and $20 a year for up to five groups.
Snooth is a social network and shopping site for wine lovers/purchasers. The point of differentiation seemed to me to be that there are personalized recommendations and the system is set up to help you check out wines on the basis of which wines people you relate to rate more highly. In other words, and as I understood from the presentation and a subsequent look at the site, the system is set up to help you connect with people of similar tastes and be able to make judgements about wine on that basis.
RadiusIM – RadiusIm is a service that shows you where your friends are hanging out and lets you surf for other people based on location. In other words, it answers two questions: "where are my friends hanging out?" and "what's happening in my 'hood?".
Then after the presentations there was more networking, which was still going strong when we left, as the next day we would be boarding our flight for the long haul back to Australia.
And in the midst of all this I had a really good conversation with Owen Brunette of SwarmPoint, a New York based consulting services company.
A very informative evening with a bright and energetic crowd. If you are in New York or heading there, check it out.
The following two tabs change content below.
Business coach and digital entrepreneur
. With coach training from
Coachville.com
and its Graduate School of Coaching, and a founding member of the
International Association of Coaching
, Des has been coaching business owners and entrepreneurs for the past 20 years. Over the same period he has also been actively engaged in promoting the business opportunities of the digital economy. He is a certified Neurolinguistic Programming (NLP) coach, and a certified specialist in social media strategy and affiliate marketing.
Latest posts by Des Walsh (see all)