It was certainly my intention, if not to live blog the ad:tech Beijing event a couple of weeks ago, then at least to post more than I have, namely a brief post here from Beijing, with a picture of me at the Great Wall, and a similarly brief post on another blog.
What complicated things somewhat was that I mislaid my ad:tech notebook, in which I had jotted down various statistics and statements. Fortunately, in a bit of a roam around the blogosphere today, I've been able to find several blog posts about the conference and a couple of sites with some of the specific information that was in my notebook. And one of the speakers has been kind enough to send me his slides.
Overall, the experience of attending the conference and spending two weeks in China, one in Beijing and the next in Shanghai, has been very educational for me. I can't pretend to have processed adequately the impressions and reactions I experienced, but from a business point of view a few things stand out for me:
there is a huge amount of blogging in China and the level of online social networking rivals that of the West
Internet usage is already huge but with more growth potential than in, say, North America
everyone knows what blogs are, lots of people have them
the generational differences in China, especially in the light of the political and social history of the past fifty or more years, have huge bearing on any examination of how China and the rest of the world might connect with one another online – or not – and also in terms of company-facing corporate blogging and social networking
assumptions from the English-speaking world about public-facing corporate blogging and corporate social networking need some very careful examination and probably serious revision, before being promoted to the Chinese corporate sector
the political context is never far away and is a spoken or unspoken subtext to the discussion of blogging and other aspects of social networking
the Beijing Olympics are more important for national pride and national cohesion than the average Westerner might suspect – it's not just about sport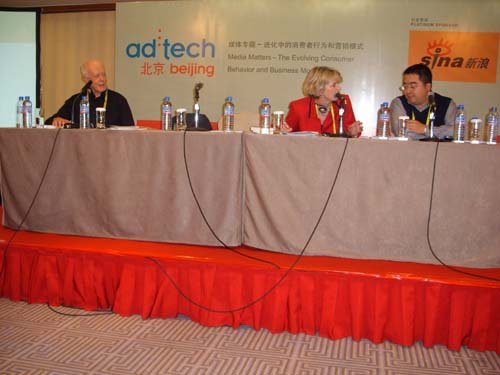 The panel discussion I moderated, scheduled as How to Build a Corporate Social Networking Platform, was intended, as the program specified to focus on corporate blogging. Which it did. Fellow panelist Debbie Weil mentions the panel session in her post about the Mandarin edition of her book on corporate blogging. And it's appropriate here to thank the other panelist, Jason Ge, General Manager Marketing for online giant Sina, for examples of Chinese corporate blogs. Slides are here.
It was great that Rick Bruner, Director of Research at DoubleClick and founder of the Business Blog Consulting blog, where I will soon be blogging again, was able to attend our session. His Blogging in Beijing post highlights some key points of the discussion and includes:
the amazing story from Jason Ge, about the CEO blogger with a sofa company, who gave away a high quality sofa for every 1,000th comment on a blog post and stopped at 18 sofas
the fascinating "Forbidden Starbucks" story of blog power in the Middle Kingdom
As I say, I've found a few sites today that cover aspects of the ad:tech event and will post about them in the next couple of days, in subsequent posts of this short series.
And I'm told by ad:tech that videos of various sessions will be uploaded to the event website, some time in November.
In the meantime, I have some work to do to get organised for our next big trip, to Las Vegas for BlogWorld Expo, which from what I can see is shaping up to be bigger than Ben Hur. Certainly my recent China experience has prompted me to re-think a few of the assumptions I would have been taking to the session I'm co-moderating there with Rich Brooks on Going Global with New Media.
The following two tabs change content below.
Business coach and digital entrepreneur
. With coach training from
Coachville.com
and its Graduate School of Coaching, and a founding member of the
International Association of Coaching
, Des has been coaching business owners and entrepreneurs for the past 20 years. Over the same period he has also been actively engaged in promoting the business opportunities of the digital economy. He is a certified Neurolinguistic Programming (NLP) coach, and a certified specialist in social media strategy and affiliate marketing.
Latest posts by Des Walsh (see all)