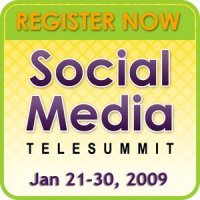 I'm excited about the Social Media Telesummit launched yesterday, partly because I'm one of the presenters but more importantly because I believe that this is a very timely event for many people.
It's timely especially for people who are looking at the effects of the global economic crisis and wondering what they can do that's extra or different, so as to steer their businesses through the maelstrom.
The Social Media Telesummit helps business leaders and business owners understand how to use social media to find new clients, make money and create their personal brand without any of the "geek speak."
The Social Media Telesummit, under the dynamic leadership of Leesa Barnes, brings to a telephone or computer near you an array of people with knowledge, expertise, practical experience and track records of achievement across the spectrum of social media, from blogging and podcasting through to the latest tools such as Twitter, and who are busting to share what they have with the attendees at this virtual telesummit.
Looking through the list of presenters who will be doing their stuff over the coming week and a half, I can say without any false modesty that I am honoured and thrilled to have been invited to be on the faculty.
Just as a sample, the Telesummit kicked off yesterday (my time), following an introductory session led by Leesa Barnes, with successive sessions by the powerful trio of Paul Colligan, David Meerman Scott and Deborah ("CoachDeb") Micek.
It's a full program, with 18 presenters covering topics including:
How to Use Online Videos to Develop Your Personal Brand
How to Integrate Mobile Marketing Into Your Social Media Efforts

How to Become a Social Media Powerhouse Using the Magic of Publicity

How to Attract, Engage & Convert Prospects To Customers Using Live Video Broadcasting

Social Article Marketing: How to Create More Prospects, Publicity and Profits 300 Words at a Time

How to Fill Your Groups Using Twitter
Social Media Integration: How to Combine the Power of Blogging, Facebook and Twitter
How to Use the Fine Art of Social Bookmarking to Build Traffic

Why Building Traffic for Your Blog Isn't Enough: How to Become an A List Blogger and Dominate Your Niche

How to Get Free Publicity and Attract New Clients with the Power of Social Networking
My session, scheduled for Monday January 26 will be about why building traffic is not enough and how to become a leader in your chosen niche, through a strategic use of social media.
And because the telesummit is being delivered virtually, you don't have to take out a loan for airfares, hotel accommodation, pet minding costs etc. Also, the whole event is being recorded, so if timezone differences or your other commitments hinder or prevent your attendance at any session, you can use the participants' access to the recordings. And that means it's not too late to register: you can quickly catch up with all the sessions so far.
You can get more information – and register if you choose – at the Social Media Telesummit site.
See you at the telesummit!

The following two tabs change content below.
Business coach and digital entrepreneur
. With coach training from
Coachville.com
and its Graduate School of Coaching, and a founding member of the
International Association of Coaching
, Des has been coaching business owners and entrepreneurs for the past 20 years. Over the same period he has also been actively engaged in promoting the business opportunities of the digital economy. He is a certified Neurolinguistic Programming (NLP) coach, and a certified specialist in social media strategy and affiliate marketing.
Latest posts by Des Walsh (see all)