With economies everywhere under challenge, businesses of all kinds are also under challenge to refine and improve what they do and how they do it. Professional coaching businesses are no exception.
In fact, there is a good chance that some coaching practices will be suffering a "knock on" effect and seeing their business flow slowing, or even drying up completely.
In a timely move, Coachville, the global learning community and resource center for coaches, has established the Business Academy for Professional Coaches, dedicated to providing a perfect environment for members to thrive in the world as professional coaches, with profitable businesses.
Coachville describes the Academy also as "a Revolutionary Way to Learn, Play and Win the Game of Business."
Being a coach, whether in a role of helping others realize their personal potential, grow their businesses, build great relationships or win games and championships, can be immensely rewarding emotionally, a very personally fulfilling way of life.
But if you haven't got your business model right and functioning effectively, you won't be able to rely for long on your coaching to help pay your bills and put food on the table.
Which kind of defeats the purpose.
One of the reasons I was attracted to the idea of joining Coachville and subsequently its Graduate School of Coaching, now part of the Center for Coaching Mastery, was that it was clearly a fundamental part of the organization's mission to give coaches the tools and training to build viable, flourishing businesses.
It still is, as exemplified in the new Business Academy.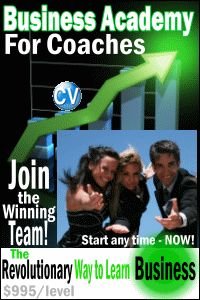 On Monday, December 22 at 12 noon Eastern time (USA) and then again, on the same date, at 7 pm ET, Coachville CEO Dave Buck will be hosting a teleclass call, Win The Business Game, where there will be an exploration of how to thrive in business by playing a game – this is a specialty of Dave's. The only pre-requisite to being on the call is to be a member of Coachville – for which basic membership is free: details of Coachville membership and registration here. By the way, there is no trick in the free membership. It was how I and many others started with Coachville and I was never pestered to upgrade – that was a choice I made in due course (and have never regretted).
Being on the call with Dave will provide an opportunity to get a good sense of  what it might be to participate in the Academy's courses.  Level 1, for coaches earning $0 to $4,000 a month, will be launched in January 2009 and there is a great discount available until just before midnight on Monday December 22.  Level 1 has two 12 week programs:
Getting to YES! The ultimate new client enrollment method for coaches, and
Be Known as THE Coach – Branding and visibility strategies for the new coach
Level 2 programs, for coaches earning from $4,000 to $8,334 a month, will be launched in September 2009.
The following two tabs change content below.
Business coach and digital entrepreneur
. With coach training from
Coachville.com
and its Graduate School of Coaching, and a founding member of the
International Association of Coaching
, Des has been coaching business owners and entrepreneurs for the past 20 years. Over the same period he has also been actively engaged in promoting the business opportunities of the digital economy. He is a certified Neurolinguistic Programming (NLP) coach, and a certified specialist in social media strategy and affiliate marketing.
Latest posts by Des Walsh (see all)