I've been talking lately with a colleague about possibly setting up an online forum or community for a project we have in mind. So I had an immediately personal reason to be delighted to receive a few weeks ago a review copy of Patrick O'Keefe's new book Managing Online Forums
Then, just over a week ago, I seized an opportunity while traveling to read it right through at one sitting.
That might not be how most people will use this book. My guess is that experienced community discussion board managers will skim the book to check out its scope, then focus on particular sections which address their immediate needs, and those just setting up a community will likely focus on the earlier chapters first and perhaps make use of the excellent templates provided for community discussion board owners.
A summary of this review is:
the book incorporates a huge amount of information and speaks at every turn of the author's practical experience, over many years, in setting up and managing online communities
it should prove an invaluable resource for anyone who is considering setting up an online forum or already managing one or more
there are templates included, for guidelines and contact, which can be used and adapted freely
advice on community software is restricted to vBulletin and phpBB  but the principles and practices set out in the book can be applied more widely.
My frame of reference was as a participant in online forums for fifteen or more years, going back to the days when The WELL (which had started in the 1980s) was still pretty prominent and Compuserve Forums. I have also been and in some cases still am a member of various Listservs, Ryze groups, Ning groups, Yahoo! Groups and Google Groups, some of which have been run well to brilliantly, some of which have verged on or tipped over into anarchy. I am also founding moderator of the now 900 or so member forum, LinkedIn Bloggers.
My personal preference (bias if you will) is for groups to be well run and the discussion managed in a kind of "loose-tight" way that means you can spend your time online enjoyably and/or usefully and don't have to put up with nonsense and spamming.
From reading Managing Online Forums, I get the sense that the author too has a low level of tollerance for nonsense or spamming.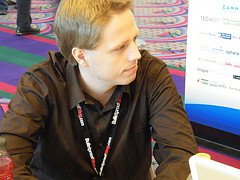 Managing Online Forums has a very readable, conversational style, which I found congenial. It would perhaps have been easier for the author to write more of a "shopping list" of things to do and not do, but I for one would probably have found such an approach not only boring to read but less than convincing. With Managing Online Forums I felt I was in the presence of a master, who had not only "been there, done that" but had reflected long and deeply on what works and what doesn't.
The sub-title promises that the book will provide Everything You Need to Know to Create and Run Successful Community Discussion Boards. I found that to be a somewhat over-ambitious claim – perhaps a bit of publisher hubris: the author himself makes it clear that some aspects won't be covered, for example technical issues (p 2) –
For the most part, I try to steer clear of technical issues, such as your particular administration-control panel, code editing, and custom programming. That's not what the book is for."
Nor does the book have specific advice with regard to other popular platforms as Google Groups, Yahoo! Groups or MSN Groups  – as is acknowledged also on page 2. There are huge numbers of forums on these and other platforms and it is inevitable that people managing communities on them will be looking for guidance, the specifics of which they will not find here. To provide one small example, as co-moderator of a group on Yahoo! Groups and requiring a specific identification detail for new members, I and my fellow moderators have found interface for joining totally inadequate, with the result that we have to go to considerable effort to help people join. Information on this sort of dilemma is not to be found in Managing Online Forums.
Although, as mentioned above, the principles and practices in the book can be applied to these and other platforms.
Chris Brogan was not impressed with the organization of the book but while I might have used different chapter headings I found the organization fairly unexceptionable.
The chapters are:
Laying the Groundwork
Developing Your Community
Developing Guidelines
Promoting Your Community
Managing Your Staff
Banning Users and Dealing with Chaos
Creating a Good Environment
Keeping it Interesting
Making Money
Then there are appendices:
Online Resources
Blank General Templates
Glossary
Two chapters which I found particularly interesting, from a forum founder or moderator viewpoint, were those on guidelines (Chapter 3) and on "Banning Users and Dealing with Chaos" (Chapter 6). As an aside, from reading these chapters it does appear that Patrick O'Keefe as a forum manager has had more than his fair share of difficulty-creating people to deal with. In his own words (p 3),
Part of managing a community is dealing with spammers, idiots, and people who just can't seem to follow your guidelines. Of course, it gets worse – there are people out there who will actually want to do harm to your community.
Complementing these chapters on guidelines and "dealing with chaos" is the set of general guideline and contact templates in Appendix B: Blank General Templates. I would love to have had these templates a few years ago when LinkedIn Bloggers was just getting going – and am looking now at what can be gleaned from them. Having guidelines in place and known to members makes it a much more straightforward task to deal with behavior that does not serve the community. I know it's a bit of a cliched expression, but the fact is that this set of templates alone is worth the price of the book and more – much more.
Overall, it is evident that Patrick knows his stuff: he has been building online communities for years and it shows.  Anyone who wants to set up an online forum or already has one can learn from this book. Anyone who wants to know how to build a community online, can find plenty of guidance here. If you want to know how to deal effectively with troublemakers and wreckers, you may need some trial and error but there is a ton of practical advice here. If you want to know how to manage and lead staff (paid or volunteer), it's in the book.
On a less positive but hopefully constructive note, it would have been beneficial to have some more rigorous copy-editing, to improve the flow of argument. I find it distressing to see a book as professionally produced in other respects, as this, let down by a lack of thoroughness in final copy editing. In one instance, I had to read a sentence two or three times before I understood the instruction being given. Elsewhere, there seemed to be a proliferation of unnecessary commas, which had the effect of breaking up the argument, or making the flow of thought more jerky than it needed to be. Hopefully the publishers will put some resources into some smoothing, when the time comes, as I am sure it will very soon, for a second printing or second edition.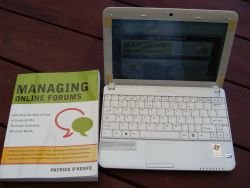 My main takeaway from reading Managing Online Forums was not so much about the mechanics of setting up or managing a community, but more about personality traits and character-building. It was pretty clear to me that if you are going to be a successful forum manager/community builder for the long haul, you'll need a blend of thick skin, sense of humor, respect for others, a sense of order and a determination to apply the rules firmly and fairly, without fear or favor. There is an excellent section on this, under the heading "What Skills and Characteristics Do You Need to Have?" at pages 14-16 in Chapter 1, Laying the Groundwork.
You can order your own copy of Managing Online Forums from Amazon at this link.
Photo credits
Managing Online Forums book photos – Des Walsh, Creative Commons
Photo of Patrick O'Keefe by Wendy Piersall via flickr – Creative Commons license
The following two tabs change content below.
Business coach and digital entrepreneur
. With coach training from
Coachville.com
and its Graduate School of Coaching, and a founding member of the
International Association of Coaching
, Des has been coaching business owners and entrepreneurs for the past 20 years. Over the same period he has also been actively engaged in promoting the business opportunities of the digital economy. He is a certified Neurolinguistic Programming (NLP) coach, and a certified specialist in social media strategy and affiliate marketing.
Latest posts by Des Walsh (see all)