B.L. Ochman has revealed her social media secret. I'm relieved and glad.
The secret is simple (and, for some social media enthusiasts, perhaps shocking):
Pick a couple of social networks – mine are Twitter and LinkedIn – and concentrate on those.
Mind you, she does check out and test new platforms as they come along and checks her RSS feeds and Google Alerts, as do I.
B.L.'s post makes me feel a whole lot better about my own practice in these matters.
It has also given me an invaluable insight into how I can improve my corporate and conference presentations on social media.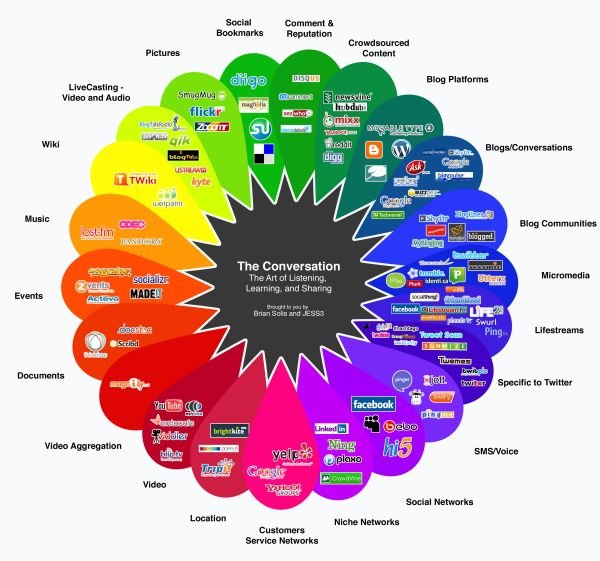 In a number of presentations over the past couple of years, I've made a practice of including in my slide decks some displays to show that there are many and varied social media platforms, with the aim of explaining to people in business that:
a) there is a lot going on

b) they need to become familiar with what is happening in social media

c) better yet, they need to participate in the conversation
I do go on to talk about how to participate. I need to do that with more finesse.
In particular, I will be making sure I explain very clearly that, at any one time and out of the whole smorgasbord of social media platforms available, I am personally and professionally using only a handful on a daily or almost daily basis. These are LinkedIn, Facebook, Twitter and – for blog hosting – WordPress.
There a few others I use, but less frequently, e.g. Yahoo! Groups, WordFrame, flickr, BlogTalkRadio, Google Docs & Spreadsheets.
It's not necessary or even desirable to attempt to use all or even most of the myriad applications incorporated in the awesome Conversation Prism gifted to the social media community by Brian Solis and Jesse Thomas, as above.
Even so, using just a few social media platforms can still take time. But it's my business: if it didn't make sense for my business to use one or more of these platforms, I would save that for personal leisure time or just not bother.
In my future presentations I'll be emphasizing  the general principle that each of us, whether as individuals or companies, has to work out which of these platforms are likely to be most useful for our purposes and concentrate on using those well.
Always allowing for some trial and error – carefully managed of course.
What social media platforms do you use on a daily or regular basis?
The following two tabs change content below.
Business coach and digital entrepreneur
. With coach training from
Coachville.com
and its Graduate School of Coaching, and a founding member of the
International Association of Coaching
, Des has been coaching business owners and entrepreneurs for the past 20 years. Over the same period he has also been actively engaged in promoting the business opportunities of the digital economy. He is a certified Neurolinguistic Programming (NLP) coach, and a certified specialist in social media strategy and affiliate marketing.
Latest posts by Des Walsh (see all)