The idea of being able to turn my blog posts into videos, using the new video creation platform Lumen5, appealed to me enough to spend some time during the week in learning the process.
Lumen5 is a video creation platform designed for brands and businesses to produce social content for driving audience engagements online. The goal of the platform is to allow anyone without training or experience to easily create engaging video content within minutes.
The application uses artificial intelligence (AI) and works by:
extracting sentences from the blog
allowing you to add or edit or remove sentences
providing still images from a library – or use your own
providing music from a library – or upload other music
creating the video, which you can then edit and re-edit
When I say "some time" learning to use the platform, I mean about an hour and a half in putting the elements together, then doing edits and re-edits, till I had a video I was happy to post. I'm pretty sure that next time I could cut that time by about two thirds and with practice reduce that even more.
Pricing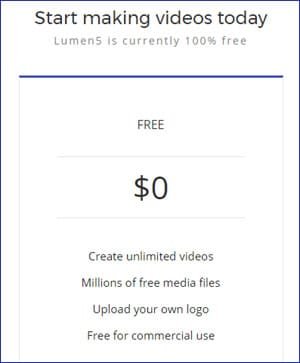 The platform is currently free, which I take to indicate that it won't be free forever – which is fair enough, we all have bills to pay. I would hope there'll always be a functioning free version.
My First Video Using Lumen5
The video below, my first effort, on Reclaiming My Passion for Blogging, is essentially a short summary of the blog post of the same name.
For this first attempt I relied on the Lumen5 library for images and music. I've since seen some other videos, made on the platform, which use images – and maybe music – from elsewhere.
A Friendly Forum
There is a welcoming Lumen5 user group on Facebook Groups, where people have been sharing their videos.
One thing I've taken from looking at some of the other videos on the Facebook group is that I believe, or at least suspect, that I can get more value from this platform by making shorter videos, even less than 1 minute, seeing them as "teasers" rather than short stories or summaries. Less is more!
sc-shortcode-cleaner-clean-content-end–>
The following two tabs change content below.
Business coach and digital entrepreneur
, Des has been actively engaged for over 20 years in promoting the business opportunities of the digital economy. He is a certified specialist in social media strategy and affiliate marketing. Des is a global partner with the
forex
education and trading company,
CashFx Group
, where he focuses on creating futureproof financial freedom, and supporting others who desire to do the same for themselves and their families.
Latest posts by Des Walsh (see all)